3 easy ways to guarantee a win for State of Origin
Wednesday night is State of Origin and no matter whether you support the Maroons or the Blues, whether you're on the "GI was born in NSW" bandwagon or if you're convinced the Queensland domination will continue, there is one thing we can guarantee… the night will be a win with Bundaberg Ginger Beer. We've gathered 3 ways you'll be able to mend your broken heart (or yet another thing to hold over your mates) before the game is over.
1. Bundaberg Ginger Beer – ice cold from the bottle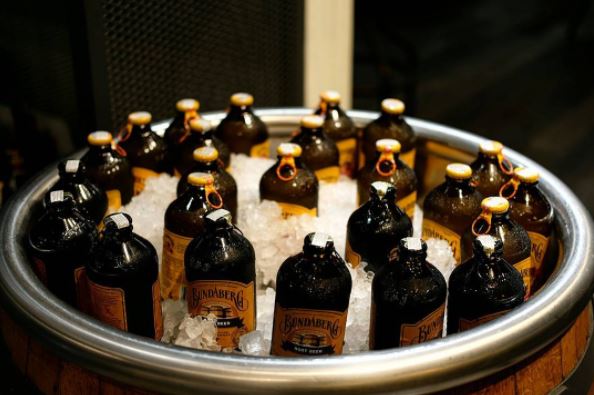 We thought we'd start with the easiest and most well-known way to guarantee a win on State of Origin night. Pop a 4 pack (or 10 pack) in the fridge on Tuesday. Come Wednesday night you'll be able to grab them out, pop them in a stubby cooler and sip your way to happiness whether your team wins or (heaven forbid) loses.
If it's already Wednesday lunch and you're reading this, grab a 4 (or 10) pack on your way home and a bag of ice. Pop the ice in an esky, pour a handful of salt on top and then tuck your Ginger Beer bottles in nice and deep. Fill the esky with enough water to cover the Ginger Beer bottles and set yourself up on the couch. The salt, ice and water combination will cool your drinks much faster than the freezer and you can keep them in the lounge room by your side so you don't miss a try (or biff).
2. Add a little boost to enhance your cheering performance
We're not talking about performance enhancing drugs or a little resin on the hands – add a shot of your favourite spirit to some Bundaberg Ginger Beer and the juice squeezed from half a lime and you'll be cheering in fine form. There are technical names depending on what spirit you add to your drink (and don't forget 18+ only!):
Rum (Bundy Rum or another dark rum) + Ginger Beer + Lime = Dark & Stormy
Tequila + Ginger Beer + Lime = Mexican Mule
Whiskey + Ginger Beer + Lime = Irish Mule
Bourbon + Ginger Beer + Lime = Kentucky Mule
Vodka + Ginger Beer + Lime = Moscow Mule (recipe video above – ginger pieces and sugar syrup optional)
Please drink responsibly.
3. Feed yourself – or a crowd!
It's Origin night we're talking about so we'll make this quick and easy. Grab a roast chook, some burger buns and a tub of coleslaw from your local supermarket on your way home. Follow the simple steps in the video above and you'll end up with Ginger Beer Pulled Chicken Burgers.
To speed things up make the sauce pre-game, pop a lid on the saucepan and leave it on a cold element on the stove top. Throw some chips in the oven just before the game starts* and at half time turn the stove top element back on, add the shredded chicken, then build your burgers.
Depending on how big the roast chicken is, and how hungry the crew are you can make 4-6 burgers using the above recipe (or a little more).
*Assuming the frozen chips you chose require 40mins to cook – if not spread them on a tray during pre-game and make a quick dash to the kitchen when the ref sends a try to the bunker for review (leaving enough time for the chips to cook and be ready for half time).