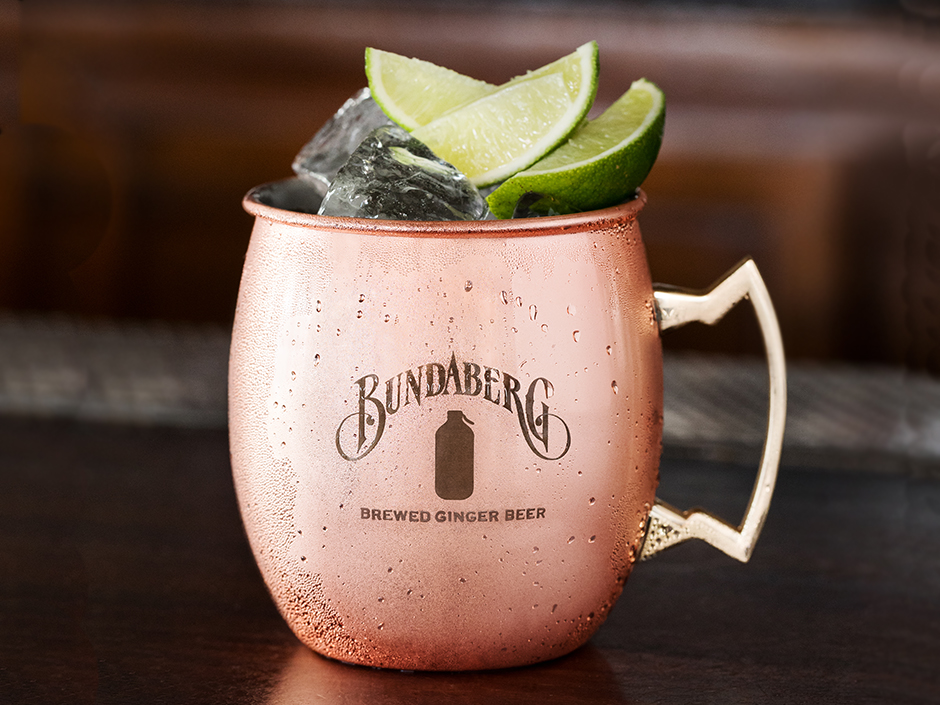 Ingredients
60mL Vodka
Bundaberg Ginger Beer
30mL Lime juice
2 x small pieces of ginger (optional)
Lime to garnish
Copper Mug
Let's Mix
Step 1

Muddle ginger and combine remaining ingredients into shaker (excluding Ginger Beer)

Step 2

Shake, then strain into a copper mug and top with Bundaberg Ginger Beer

Step 3

Add ice and garnish with a lime wedge
Despite its name, the Moscow Mule cocktail hails from the USA, not Russia. And like most classics, its history had been 'muddled' over time. 
Most believe that sometime in the 1950s, a thrifty barman at the Cock'n'Bull bar in Hollywood was clearing out the basement before his shift started. Vodka wasn't popular back then (some believe it was the Cold War while others think it was a general suspicion of anything 'foreign'). In any case, a few cases of the spirit were adding to the clutter under the stairs. 
Being a thrifty fella (as well as an ingenious mixologist), the barman got creative. He mixed a measure of vodka with lime, added ginger beer (not ginger ale) and ice and served it (just to be different) in a jaunty copper mug. He christened it the 'Moscow Mule Cocktail' because the vodka part of the mule recipe made it Russian and gave it a definite kick. 
The Moscow Mule was an instant hit, and even to this day it enjoys a devoted (some say cult) following, with professional and amateur Mixologists the world over testing and tweaking to attain their version of perfection. 
What is universally agreed on is this: you'll kick yourself if you don't try making your own Moscow Mule. It's as easy as it is delicious. The copper mug is authentic but not essential. But whatever you do, don't compromise on the quality of your ingredients. Use the best vodka you can get your hands on, zingy lime, fresh root ginger and of course genuine Bundaberg Ginger Beer. It's the real brewed taste that makes a memorable Moscow Mule.