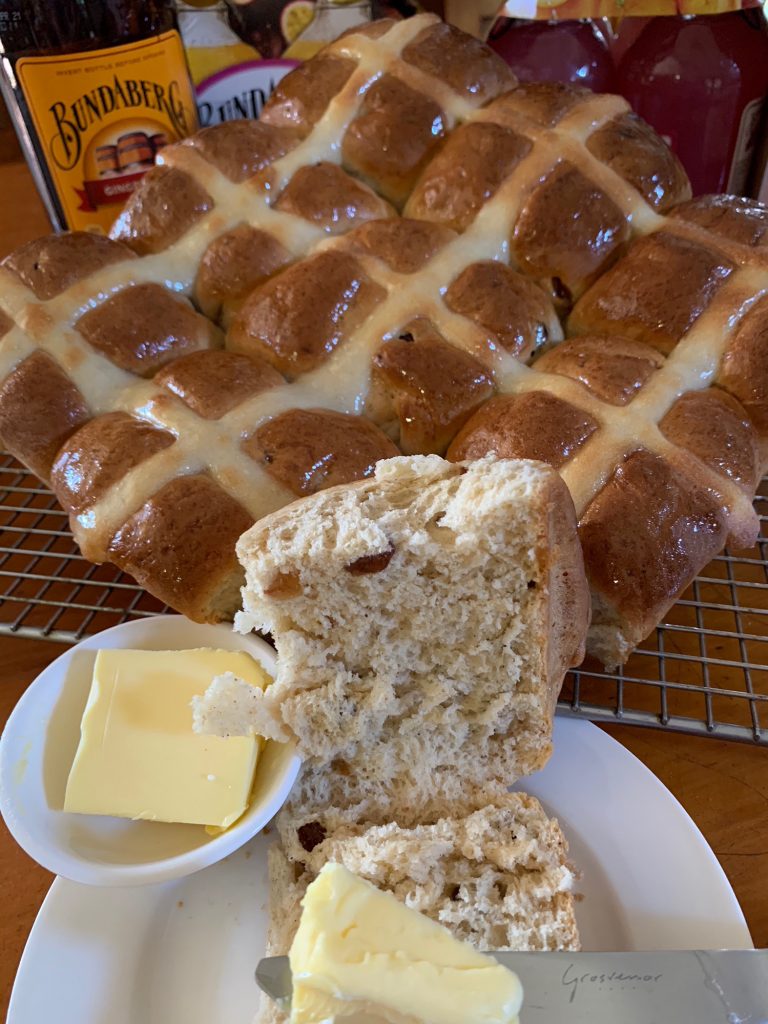 Ingredients
2 x 7g sachets dried yeast
1/4 cup caster sugar
1 1/2 cup Bundaberg Ginger Beer (room temp)
Dry ingredients
4 cups plain flour
1/2 cup powdered milk
1 teaspoon allspice
1/2 teaspoon cinnamon
1 teaspoon ginger powder
2-3 teaspoon finely diced glace ginger
1 cup sultanas
60g butter
1 egg
Flour paste for crosses
1/2 cup plain flour
2 teaspoon caster sugar
1/3 cup water
Glaze
1 tablespoon caster sugar
1 teaspoon gelatin
1 tablespoon water
9 hot cross buns
Let's Bake!
Step 1

Combine yeast, sugar and warm Bundaberg Ginger Beer in a bowl, cover and stand in a warm place until mixture is frothy. Approximately 15 minutes.

Step 2

Sift dry ingredients into a large bowl, mix in yeast mixture, egg, sultanas and diced ginger.
Mix well, cover and place in a warm spot until doubled in size. Approximately 45 minutes.

Step 3

Grease 23cm square slab pan.

Step 4

Turn dough onto a floured surface. Knead for 5 minutes. Divide dough into 16 equal size balls.

Place balls into prepared pan, stand in a warm place until dough reaches top of pan. Approximated 15 minutes.

Step 5

Preheat oven to 200 degrees Celcius (fan-forced) or 220 degrees Celsius (standard)

Step 6

Mix flour, sugar and water together to form a smooth paste for crosses.

Cut corner from clip lock bag. Place paste in bag and pipe crosses on buns.

Step 7

Bake in the oven for 20 minutes until browned.
Turn onto a wire rack and brush with warm glaze.

Make the glaze

Put ingredients in a small saucepan. Stir without boiling until sugar and Gelatine are dissolved.