A Bundaberg Brewed Christmas



Can you believe that Christmas is only 15 days away? Where has the year gone?
If you're just now realising how soon the special day is, do not worry because the festive season is one of our favourite times of year – and we've got some tips and tricks to help bring the Bundy Brews to your celebrations. Through some delicious desserts, tasty cocktails, and fantastic stocking fillers, you won't have anything to worry about!
Spiced Ginger Beer Pudding
This year, we're helping elevate the dessert with our brand-new Spiced Ginger Beer Pudding. The delicious recipe was created by our friend Kirsten Tibballs, and truly, it's designed for every type of skill level. With a 90-minute cooking time, and a final dish that serves 10-12 guests, you can't go wrong with this one… did we mention it's so delicious?! Check out the video below:
If you want to view the recipe, click here to be redirected.
Spiced Cranberry Punch
A Christmas meal isn't complete without a tasty, festively themed cocktail – and our Spiced Cranberry Punch is just that. Made using our seasonal Spiced Ginger Beer, a dash of Tequila, a touch of Cointreau, and a whole lot of festive favourite fruits, we just know your nearest and dearest will love this one. And to sweeten the deal, all it takes is 3 simple steps to make!
Click here to view the delicious recipe.
Stocking Fillers

Food and drinks aside, if you're stuck trying to fill those stockings, we may have some goodies that can help. Our Bundaberg Barrel has a collection of merchandise perfect for all the brew lovers in your world. From Copper Mugs and Key Rings, through to Stubby Coolers and Ginger Beer socks, it's all here and ready for your Christmas gifting.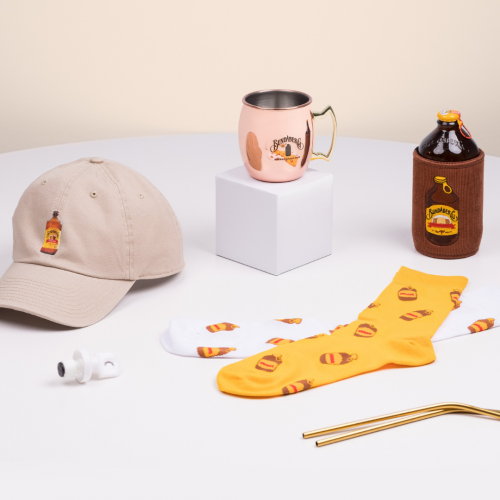 Click here to check out the Barrel's range of gifts.
If you're wanting more inspiration on how you can bring the Bundy to your Christmas day, we have you covered. If you're wanting to view more of our delicious cocktail recipes, simply click here. Or, if you want to peruse more of our recipes, just click here. We're sure that we have something perfect for you!
However you choose to spend your upcoming Christmas celebrations, we hope you have a wonderful time surrounded by the people you love.
From our family to yours, Merry Christmas!