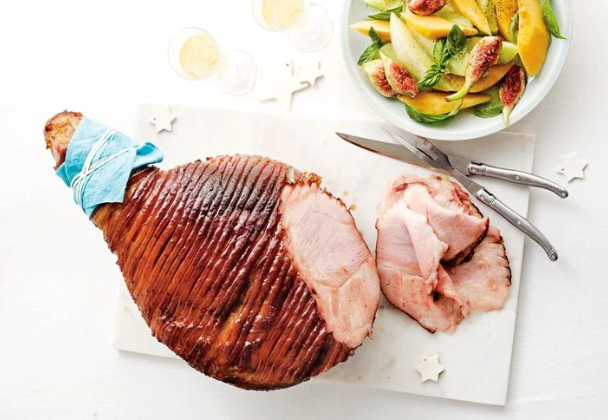 Ingredients
8kg whole leg ham on the bone
GINGER BEER GLAZE
2 firmly packed cups (440g) brown sugar
1 cup (250ml) soy sauce
5 whole cloves
2cm piece ginger, peeled, sliced
375ml Ginger Beer
3 kaffir lime leaves
3 star anise
1 cinnamon quill
1 garlic bulb, halved horizontally
1 cup (250ml) red wine
2 tsp mustard seeds
12
Let's Cook!
Glaze

For the glaze, combine all ingredients in a saucepan over medium heat and bring to a simmer. Reduce heat to low and cook for 40 minutes or until reduced by two-thirds. Set aside to cool completely. Strain glaze into a bowl, discarding solids.

 

Prepare the ham

Preheat oven to 150°C. Using a small sharp knife, cut around ham shank in a zigzag pattern, then carefully run knife under skin, around the edge of the ham.

Step 2

Gently lift off skin in 1 piece by running your fingers between the rind and the fat. Discard skin, then score fat in parallel lines, 1cm apart. Baste fat with some of the glaze and place ham on a rack set in a large roasting pan. Roast ham, basting with remaining glaze every 20 minutes, for 2 hours or until caramelised.

Step 3

Slice the ham and serve side of choice.