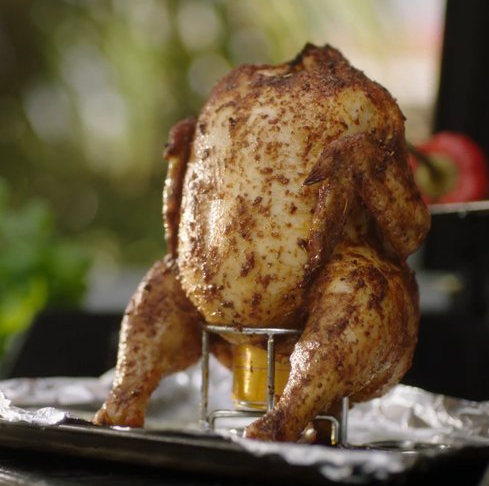 Ingredients
1.6 kg whole chicken
200 ml Bundaberg Ginger Beer Mini Can
Seasoning mix:
1 tbsp brown sugar
1 tbsp paprika
1 tsp smoked paprika
1 tsp flaky salt
1 tsp dried oregano
½ tsp dried mustard
¼ tsp black pepper
4
Let's Cook!
Step 1

Preheat a hooded gas barbecue to medium high heat, using burners for indirect roasting.

Step 2

Rinse the chicken under cold water then pat dry with paper towels. Open the ginger beer can and pour off one third of the ginger beer. Fit the whole chicken over the can with the legs on the bottom. Ensure the chicken fits snugly on the can with the legs keeping it balanced and upright.

Step 3

To prepare the rub, combine the brown sugar, paprika, smoked paprika, salt, oregano, mustard and black pepper in a small bowl. Sprinkle about 1 tsp of the seasoning mix inside the top cavity, then rub the remainder of the seasoning mix over the surface of the chicken.

Step 4

Place the chicken into the barbecue over indirect heat, ensuring there is a drip tray underneath. Close the lid. Barbecue the chicken for about 1¼ to 1½ hours, until the juices run clear when the thickest part of the thigh is pierced.

Step 5

When the chicken is cooked, transfer with the can to a carving board. Allow to rest for 5 minutes, then use tongs to carefully take it off the can. Pull the chicken apart to serve.