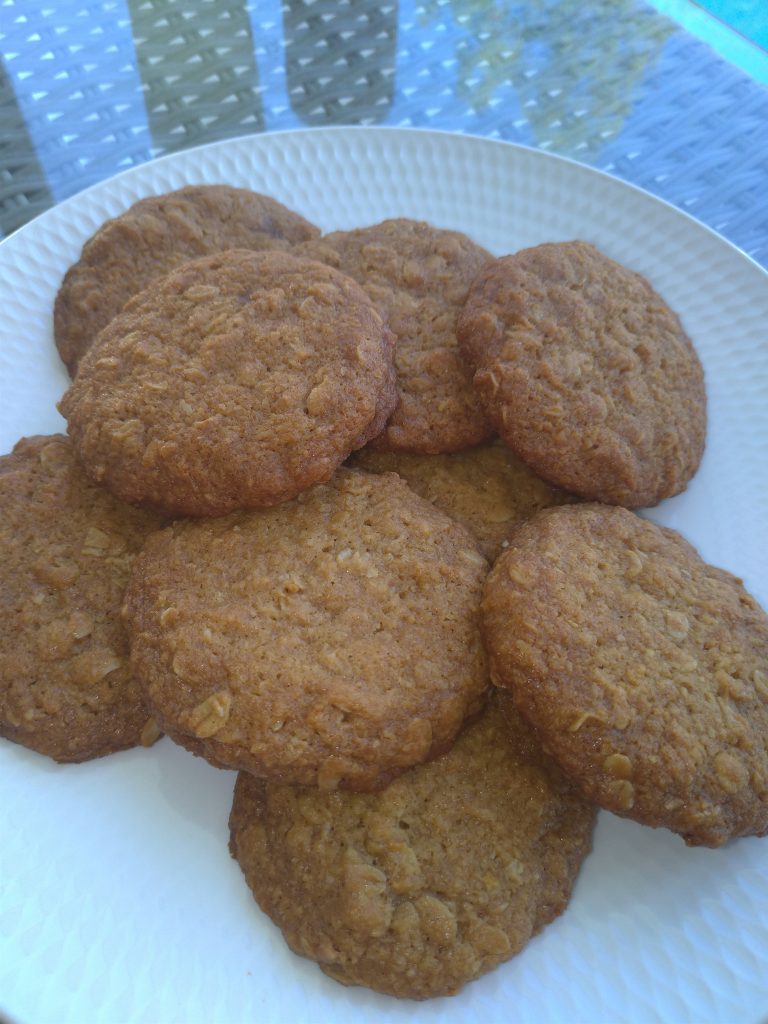 Ingredients
1 ¼ cups of plain flour
1 cup of rolled oats (don't use instant or quick oates)
1 cup of desiccated coconut
1 cup of brown sugar
1 teaspoon of ground ginger
125 grams of butter
1 cup of Bundaberg Ginger Beer
1 tablespoon of golden syrup
1 tablespoon of boiling water
1 teaspoon of bicarb soda
Let's Bake!
Step 1

Heat the oven to 175 degrees Celsius.

Start by placing 1 cup of ginger beer into a small saucepan and heating over a medium heat. Boil the ginger beer for around 10 minutes, this will result in the liquid reducing to around ½ a cup.

Step 2

Now prepare the dry ingredients.

Into a mixing bowl add the plain flour, oats, coconut, sugar and ground ginger. Mix until combined.

Step 3

Once the ginger beer has reduced, add the butter and golden syrup and heat until its melted. Once you can see the butter and golden syrup has turned into a liquid remove from the heat. Combine the boiling water and the bicarb soda and add to the mix. This will bubble and expand.

Step 4

Add the liquid to the dry ingredients and mix thoroughly. I then let the mixture sit while I clean up, this allows the mix to firm up so I can roll tablespoons into balls.

Step 5

Place the balls onto a baking trays lined with baking paper and lightly press each one with a fork.

Bake the biscuits for 10 minutes or until they are golden brown.

Step 6

Let them cool on a baking rack and enjoy with an ice cold Bundaberg ginger beer.