Braised Beef Cheeks In Sarsaparilla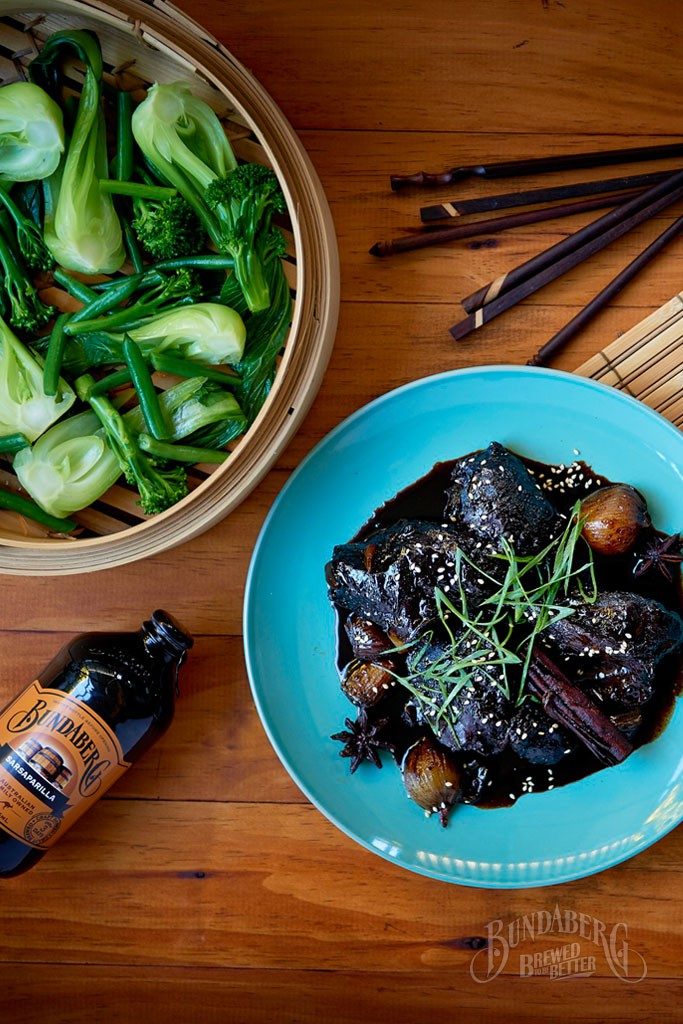 Ingredients
4 large beef cheeks (approx. 180 gm each)
12 golden shallots peeled and left whole
2 spring onions finely sliced
¼ cup vegetable oil
2 brown onions sliced thinly
6 cloves garlic peeled and crushed
10cm piece of ginger sliced
5 cups Bundaberg Sarsaparilla
¾ cup soy sauce
2 ½ tbsp. balsamic vinegar
6 star anise
2 cinnamon sticks
Sea salt and fresh ground black pepper
1 tbsp toasted sesame seeds
Serves 4
Let's Cook!
Step 1

Preheat oven to 160 C.

Step 2

Using a large ovenproof saucepan, heat the oil over medium heat. Add sliced brown onion, garlic and ginger and cook until caramelised and nicely browned.

Step 3

Add Bundaberg Sarsaparilla, soy, balsamic, star anise and cinnamon and bring the liquid to a boil before reducing heat and simmering for 10 minutes.

Step 4

Season the beef cheeks with salt and pepper and seal in a hot frying pan, browning on all sides. Place beef cheeks in braising liquid and cover with a sheet of baking paper and then cover the saucepan with a tight fitting sheet of aluminium foil. Braise in the oven for 4-5 hours. Remove from the oven and allow braise to cool before removing beef cheeks.

Step 5

Strain the liquid into another saucepan and skim the fat off the surface. Bring to a boil and add golden shallots. Reduce the liquid by half over high heat and return beef to braise to warm through.

Step 6

Serve with rice and steamed Asian greens and garnish with the sliced spring onions and toasted sesame seeds.