Blood Orange Sweet And Sour Pork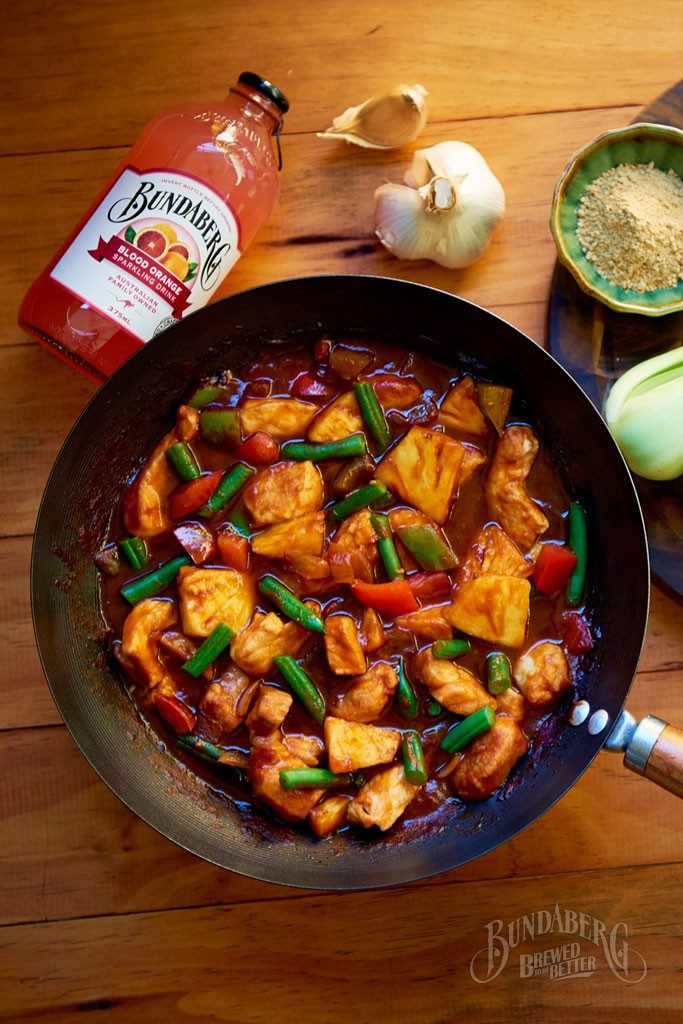 Ingredients
600 gm diced pork
¼ cup plain flour
1 brown onion (sliced)
2 cloves garlic (peeled and chopped)
1 cup passata
1 tbsp ginger powder
½ tbs 5 spice powder
¼ cup soy sauce
1 ½ cups Bundaberg Blood Orange
1 tbsp brown sugar
1 cup diced red capsicum
1 cup diced green capsicum
1 cup chopped green beans
1 cup pineapple pieces
Serves 6-8
Let's Cook!
Step 1

In a large frypan or wok, heat a small amount of vegetable or peanut oil. Toss the diced pork in small batches in the flour and seal in the hot oil and remove to a plate with absorbent paper to drain. Repeat until all the pork is sealed.

Step 2

Clean the frypan and add a small amount of oil and stir fry the onions and capsicums on high heat until they soften. Add the garlic, passata, soy sauce, Bundaberg Blood Orange, brown sugar, ginger and 5 spice powders and bring to a boil.

Step 3

Return the pork pieces to the sauce, turn the heat down to medium and cook for a further 10 minutes or until sauce begins to thicken. Add the beans and pineapple pieces and stir through for another couple of minutes.