Salmon With Pink Grapefruit Dressed Salad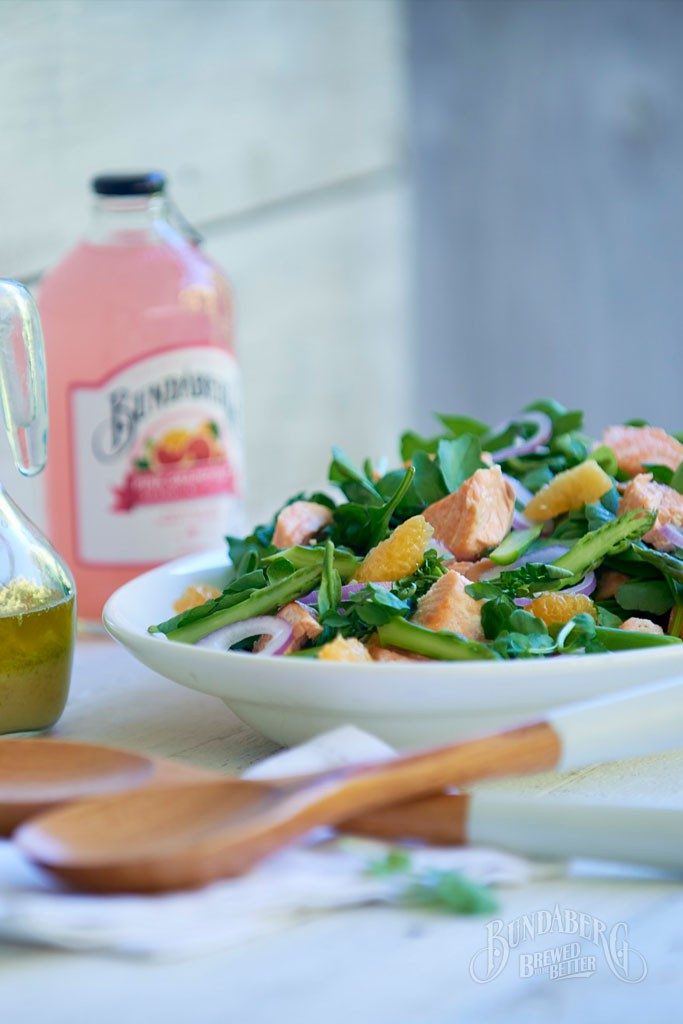 Ingredients
3 x 5oz salmon fillets
1 bunch asparagus
2 cups baby spinach leaves
1 bunch watercress
½ red onion finely sliced
½ cup mandarin orange (clementine) segments
¼ cup Bundaberg Pink Grapefruit
1 lime, juiced and zested
1tsp Dijon mustard
½ cup extra virgin olive oil
Sea salt and fresh ground black pepper
Serves 4
Let's Cook!
Step 1

Blanch the asparagus in boiling water for 1 minute then refresh in iced water. In a bowl, toss the baby spinach, watercress, onion and mandarin (clementine) segments. Chop chilled asparagus and add to salad.

Step 2

In another bowl whisk together the Bundaberg Pink Grapefruit, lime juice and zest, Dijon mustard and slowly add the extra virgin olive oil whilst whisking. Add salt and pepper to taste.

Step 3

Baste the salmon fillets in a little olive oil, season and cook on the hot BBQ for 3 minutes on each side and allow to rest for 2 or 3 minutes before serving. Break the fillets into chunks and toss with the dressed salad.