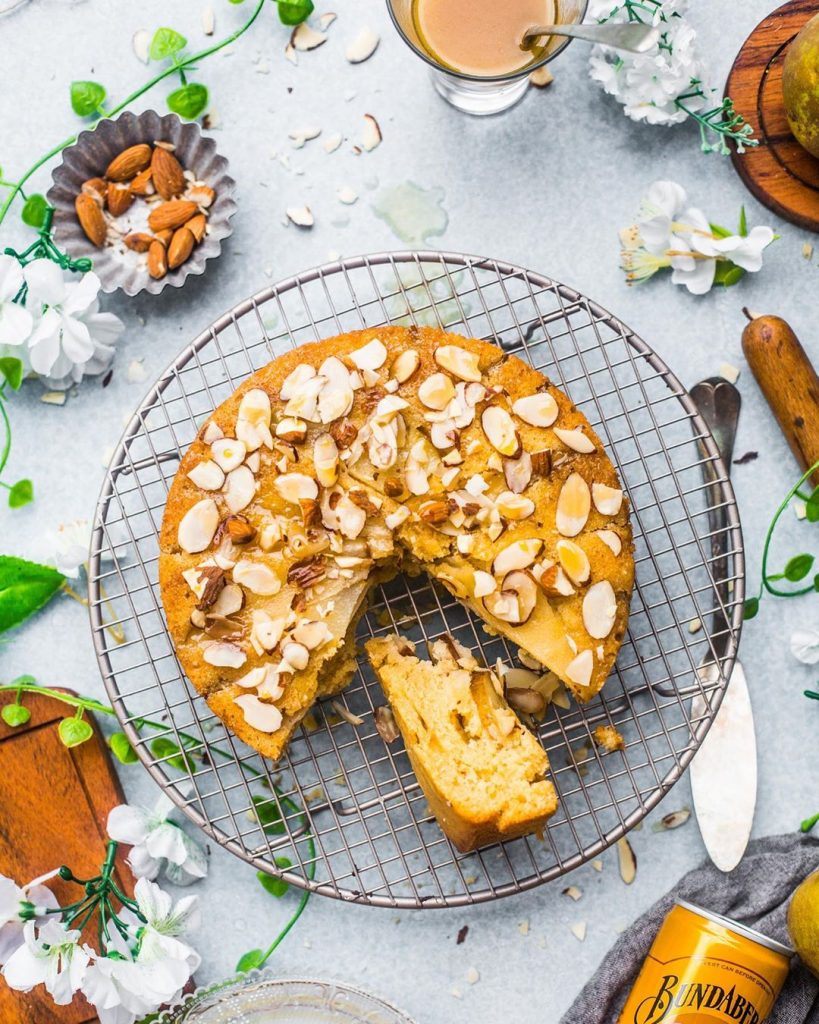 Ingredients
½ cup Bundaberg Ginger Beer
150 g unsalted butter melted
¾ cup brown sugar
½ cup golden syrup
1 egg, lightly beaten
1 cup plain flour
1 cup self-raising flour
1 tsp ground cinnamon
1 pear, cored, chopped (optional)
½ cup sliced almonds
Sticky Ginger sauce
¼ cup Bundaberg Ginger Beer
20 g unsalted butter
2 tbsp brown sugar
8 inch round cake
Lets Bake!
Step 1

Preheat oven to 180 degrees C. Grease the base and sides of an 8 inch round pan and line the base with baking paper.

Step 2

Place the ginger beer, butter, brown sugar and golden syrup in a saucepan over low heat. Cook while stirring until sugar has dissolved (do not boil). Remove from heat, leave aside to cool slightly (approx. 15 mins).

Step 3

Beat in the egg. Add the flours and cinnamon. Mix. Fold in the pears.

Step 4

Pour batter into prepared pan. Sprinkle generously with sliced almonds.
Bake for 40-50 mins or until cooked through (a skewer inserted in the middle should come out clean).

Step 5

Remove from oven, rest for 5 mins, then turn onto a wire rack. When ready to serve, drizzle with Sticky Ginger Sauce. Enjoy!

Make the sticky ginger sauce

Warm all the ingredients together in a saucepan until sugar dissolves. Bring to a boil and cook until mixture has thickened.