Why Traditional Lemonade Blows Other Lemonades out of the Water
When you think about the difference between lemonade and lemonade – you know, the real lemonade that your mum used to make for you and your friends after a big day out playing – you can immediately imagine the difference. There's a slight pucker to the mouth, a tang of real lemon juice and the visual appeal of real lemon slices floating in your iced glass.
While it would be great to whip up a pitcher of fresh, homemade lemonade whenever you felt like it, the fact is that in our busy lives, most of us have a hard time finding an opportunity to do this.
Read on for three reasons why Bundaberg Brewed Drinks Traditional Lemonade blows other lemonades out of the water.
1. It's brewed for 3 days
We brew real Australian Eureka lemons over 3 days to extract maximum flavour. When you're sipping on our Traditional Lemonade, you won't taste a clear, sugary concoction. But instead, you'll taste a refreshing, full-bodied brew made from fresh lemons and sweet sugarcane.
2. It's nostalgic
Our Traditional Lemonade tastes cloudy, sweet and a little bit tart – just like old-school lemonade. You'll be hard-pressed to find a more traditional recipe than ours.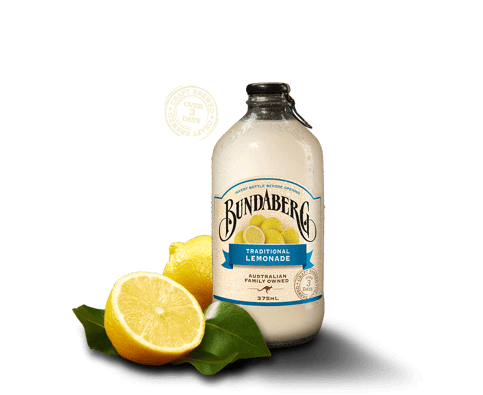 3. It mixes better with gin
One of our favourite things to do is to mix up a range of cocktails from our Bundy Brews mixology page such as traditional lemonade margaritas. But you don't even need to be making a cocktail to enjoy the superior taste of traditional lemonade – you can just add a splash of gin to your Bundaberg Traditional Lemonade and it goes down a treat. Add a sprig of mint for extra flavour and you're set.
Fancy a taste of our Traditional Lemonade? Simply head to your local supermarket. Or if you want to know more about the cocktails and combinations you can make with Bundaberg Traditional Lemonade, check out our mixology page.