Pineapple & Coconut Chicken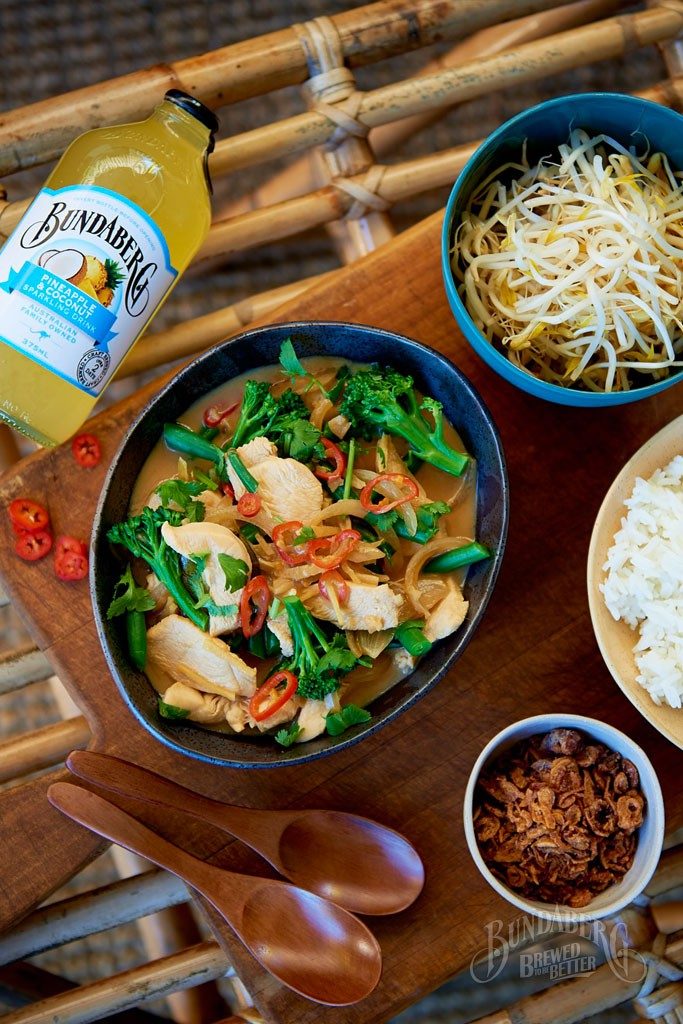 Ingredients
2 cups Bundaberg Pineapple & Coconut
½ cup coconut cream
1 lime juiced
5 kaffir lime leaves
2 tbsp fresh ginger peeled and finely chopped
1 brown onion sliced
2 cloves garlic peeled and finely chopped
1 red chilli chopped
1 tbsp fish sauce
1 tbsp soy sauce
1tbsp brown sugar
2 chicken breast sliced thinly
1 cup green beans
1 cup broccoli florets
½ cup coriander leaves washed and chopped
bean sprouts and fried shallots for garnish
Serves 4-6
Let's Cook!
Step 1

Heat some oil in a large saucepan and add the onions, ginger and garlic and fry on high heat until soft. Then add chopped chilli, brown sugar, fish sauce, soy sauce, brown sugar and coconut cream before adding the Bundaberg Pineapple & Coconut and lime juice and kaffir lime leaves.

Step 2

Bring to a boil then add sliced chicken and reduce heat to simmer for 10 minutes. Add the green beans and broccoli and simmer for a further 2 minutes.

Step 3

Garnish with the chopped coriander, bean sprouts and fried shallots. Serve with steamed rice.