Chicken Breast With Peach Glaze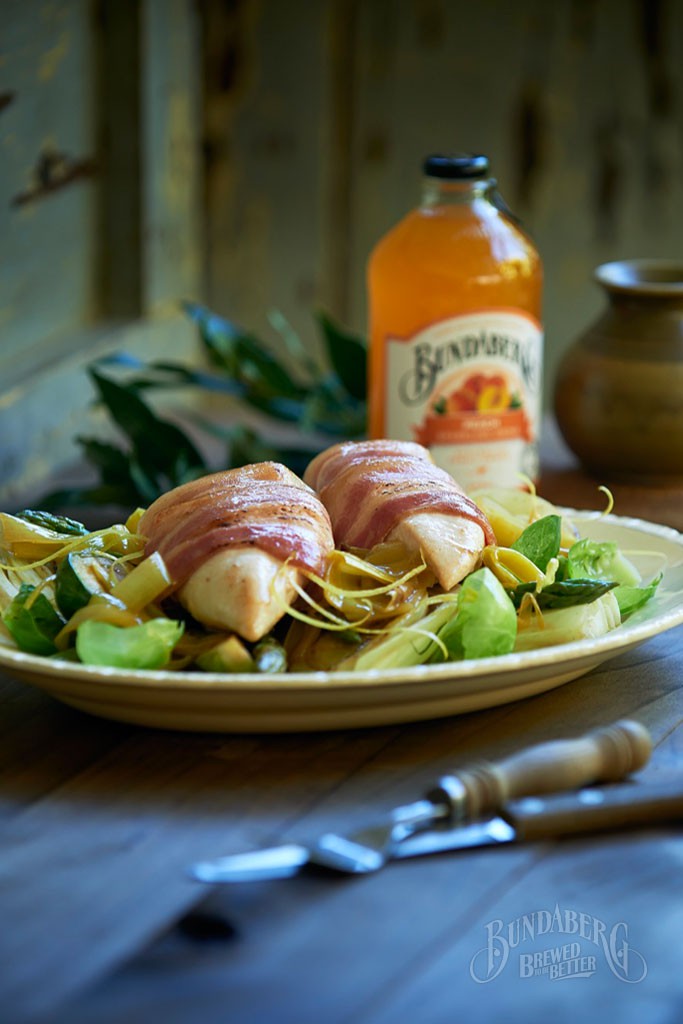 Ingredients
4 chicken breasts
4 rashers of bacon
3 tbsp butter
2 large leeks (green part removed & quartered lengthways) washed and cut into 8cm lengths
½ cup Bundaberg Peach
¼ cup chicken stock
¼ cup soft brown sugar
1 large sprig of rosemary leaves stripped and finely chopped
1 bay leaf
Sea salt and fresh ground black pepper
Serves 4
Let's Cook!
Step 1

Preheat oven to 200 C.

Step 2

Wrap each chicken breast with a rasher of bacon and secure with toothpicks. Add a couple of tablespoons of olive oil to a large frying pan on high heat and seal the chicken breasts on all sides and remove from the pan. Turn the heat to low and add the butter and the sliced leeks and braise for 5 minutes, stirring often, until leeks have softened. Do not allow to the leeks to colour/burn.

Step 3

Add the chicken stock and sparkling peach and bring to the boil. Toss in the rosemary and bay leaf and return the chicken to the pan. Transfer the frypan into the oven, uncovered and roast for 15 minutes.

Step 4

Remove frypan from oven and remove chicken breasts from pan. Return pan to the stovetop on high heat and add brown sugar to the leeks and stock. Reduce liquid to a syrupy consistency before returning chicken breasts to coat with the glaze. Season to taste.

Step 5

Serve immediately with pan seared asparagus, fennel and brussel sprouts and lemon zest.