Nothing Says Christmas Like Bundaberg Spiced Ginger Beer



Nothing says festive season quite like the appearance of tinsel in your local store, the jingle of carols on the streets and the appearance of Bundaberg Spiced Ginger Beer on the shelves. First introduced in 2014 as a limited release, Bundaberg Brewed Drinks have continued to brew the ever-popular Spiced Ginger Beer to be enjoyed during the festive season.
When it was first released, Bundaberg Brewed Drinks CEO John McLean commented that sales of the spiced brew certainly exceeded expectations. The popularity of the spiced brew has continued and the unique flavours of cinnamon and cloves, coupled with the familiar kick of Bundaberg Ginger Beer makes this an unmissable classic holiday beverage.
How Bundaberg Spiced Ginger Beer Was Created
The brew itself took around 12 months to perfect, with plenty of testing and retesting to make sure that the product was going to meet high expectations. Fans of the brew are quick to purchase the limited release flavour every year, so be sure to get in quick so that you don't miss out!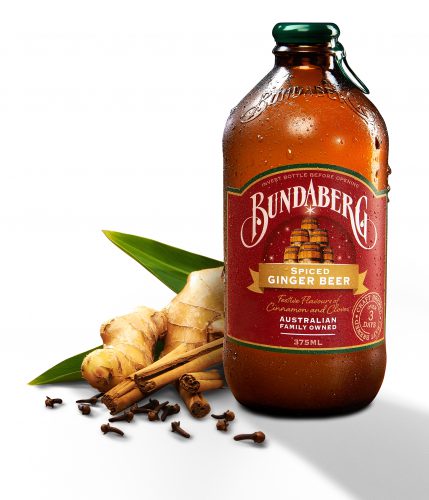 Great for the Festive Season
Want to give the holiday season a festive kick? Try adding Bundaberg Spiced Ginger Beer to your holiday cheer. Spiced with the festive flavours of cinnamon and cloves, if you're after a new way to enjoy some drinks around the table, why not try pairing with a shot of your favourite spirit over ice? We love spreading the festive cheer, nothing says holidays quite like a nice cold drink of Bundaberg Spiced Ginger Beer. Keep your eyes on your local supermarket shelves and select convenience, cafes, and takeaway stores for the distinctive red packaging to make sure you don't miss out!
Share with us how you celebrate the festive season with family and friends with a Bundaberg Spiced Ginger Beer by including the hashtag #brewedbetter