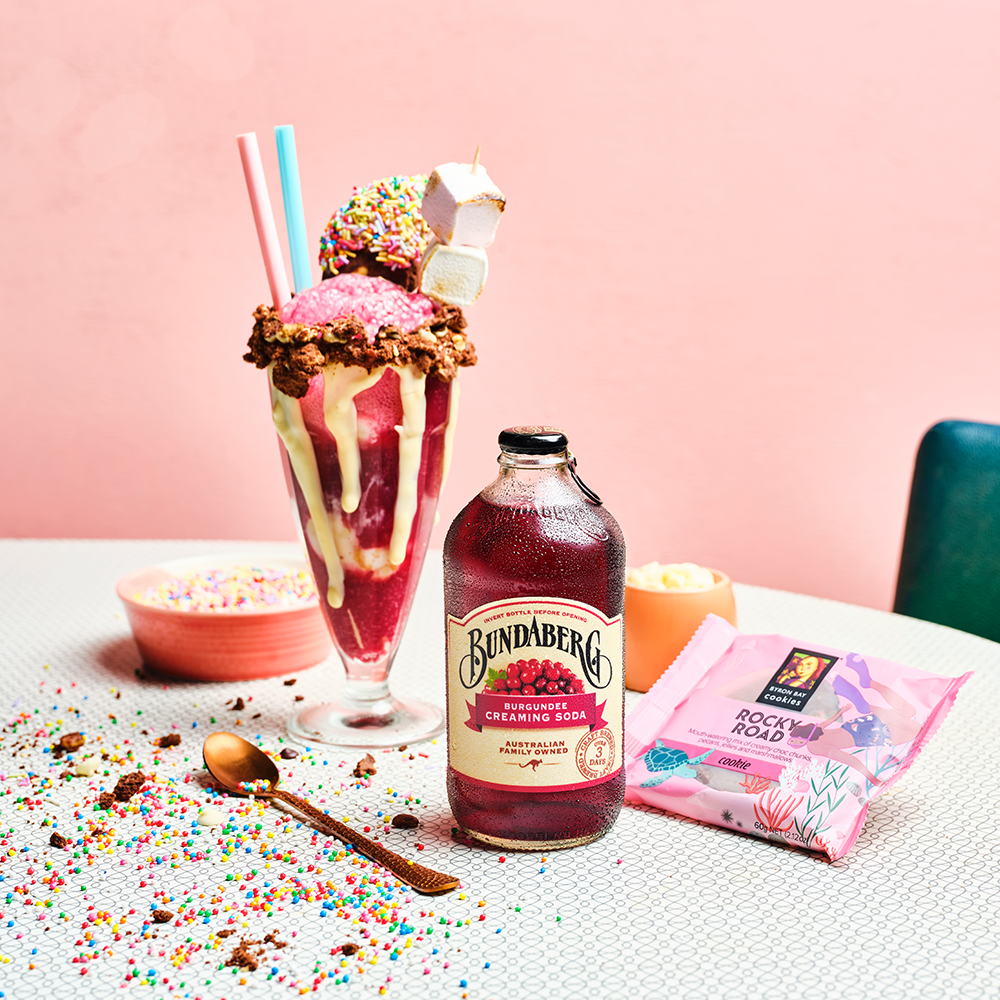 Ingredients
2 x 375ml Bundaberg Burgundee Creaming Soda Bottles
Vanilla Ice Cream (2 scoops per glass
2 x Byron Bay Rock Road Cookies (or biscuits similar of your choice)
1/2 Cup Melted Chocolate (White, Milk or Dark)
1 x Teaspoon of Canola Oil
4 x Marshmallows Toasted
100s & 1000s (to decorate)
2 x Milkshake Glasses/Mason Jars (to serve)
Highball / Milkshake Glass
Let's Create!
Step 1

Using the back of a tablespoon, crush 1 x Byron Bay Cookie while still inside the packet. If using a different cookie, crush it in a small mixing bowl instead. Once crushed, transfer the biscuit crumb to a small plate and set aside. We will use this to crumb the rim of the milkshake glass.

Step 2

In a ceramic bowl, add the ½ cup of melting chocolate with 1 x teaspoon of canola oil. The oil will stop the chocolate from burning. Melt the chocolate in the microwave on high at 30 second intervals until smooth. Holding your glass over the bowl and moving quickly, spoon the chocolate over the rim until coated. Once coated hold the glass vertical for the drips to run down the sides. Wait several minutes for the chocolate to set.

Step 3

Once set, coat the rim of the glass in chocolate again, and moving quickly once more, roll the rim of glass in the cookie crumb. We are now ready to make our decorations.

Step 4

In a small bowl, add your 100s & 1000s. Once done, take your second cookie/biscuit and break it in half. Take each cookie half and dip in the remaining chocolate (you may need to heat the chocolate again), then dip the cookie halves in the 100s & 1000s and set aside. Now, take your Marshmallows and toast them. Now, it's time to build!

Step 5

Add 2 generous scoops of Vanilla Ice Cream to each glass. When done, carefully fill the glass with Bundaberg Burgandee Creaming Soda (it will react to the cold ice cream forming a lava like effect, fill until creamy bubbles fill to the top of the glass).

Step 6

Decorate the top of the spider with the 100s & 1000s cookie half, and the toasted marshmallows. You can add a little more Creaming Soda if the frothy bubbles have reduced.

Step 7

Finish your Freak Spiders with a paper straw and teaspoon to serve. Enjoy!