Apple Cider Pork Cutlets With Pears And Thyme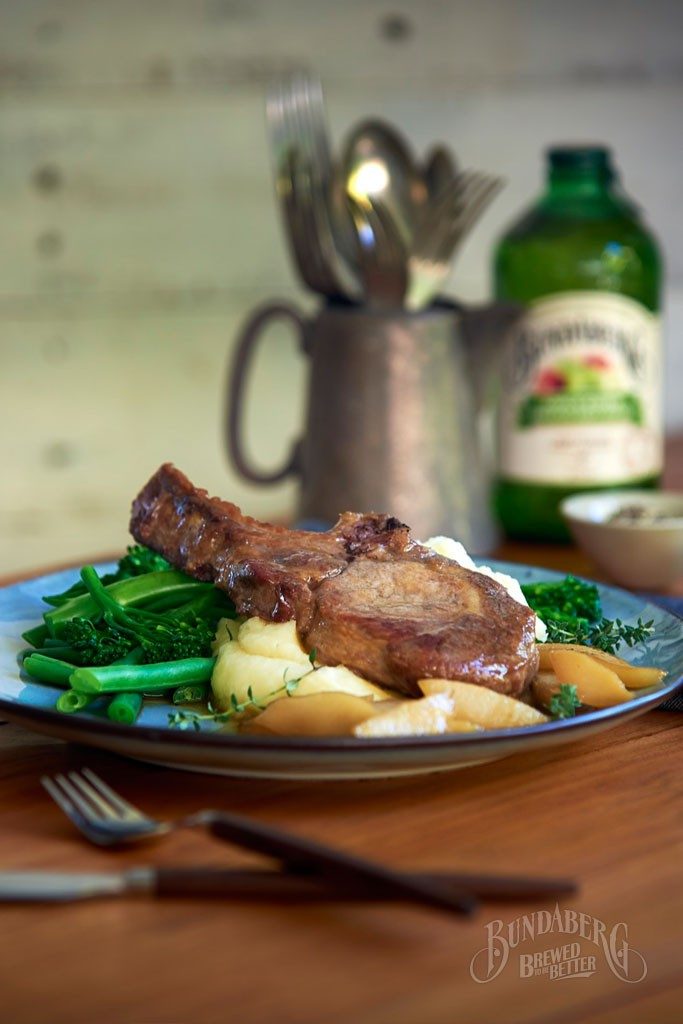 Ingredients
4 pork cutlets (approx. 200 gm each)
1 tbsp butter
2 large pears (peeled & cored & sliced)
½ cup Bundaberg Apple Cider
¼ cup chicken stock
¼ cup soft brown sugar
10 sprigs of thyme
Sea salt and fresh ground black pepper
Serves 4
Let's Cook!
Step 1

Preheat oven to 180 C.

Step 2

Add a couple of tablespoons of olive oil to a large frying pan on high heat and seal the pork cutlets on each side. Remove cutlets from the pan and add the butter and the pear slices and braise for 2 minutes, stirring often.

Step 3

Add the chicken stock and apple cider and bring to the boil. Toss in the thyme sprigs, return pork cutlets to the pan and transfer the frypan into the oven uncovered and roast for 12 minutes.

Step 4

Remove frypan from oven and remove pork cutlets from pan. Return pan to the stovetop on high heat and add brown sugar to the pears and stock. Reduce liquid to a syrupy consistency before returning pork and coat with the glaze. Season to taste.

Step 5

Serve immediately with steamed greens and a potato and parsnip mash.